Grain sorghum might be an underutilized ingredient in cattle feed and pet food, but because of its sustainability characteristics, that could very well change in the near future,
Leaders in the Kansas sorghum industry highlighted the grain's potential during the Sorghum U – Wheat U event, held August 9 in Wichita, Kansas.
"There are end users. There are buyers that have certain niche markets to where their customers are very interested in something like sorghum, that checks all the boxes that they have for sustainability," said Kent Winter, president of the Kansas Grain Sorghum Producers Association.
And while numerous uses for grain sorghum were discussed at the event, it was feed for cattle and pet food that gathered the most attention.
Sorghum in livestock feed
Brant Peterson, vice chairman of the Kansas Grain Sorghum Commission, farms in southwest Kansas, where feeding operations for both dairy cattle and beef cattle are common.
And grain sorghum is very much an underutilized ingredient in those cattle rations. That is a shame, considering 75% of the sorghum in the United States is raised in Kansas and Texas, and 45% of U.S. cattle on feed are in Kansas and Texas, according to data Peterson cited from the United States Department of Agriculture (USDA).
Other USDA statistics Peterson presented included that less than 2% of the energy grain used for cattle on feed is sorghum, and cattle from those two states that produce the most sorghum consumer 500 million bushels of grain.
While more people who raise and feed cattle are learning of sorghum's benefits, corn has been the king of feed ingredients.
"They like corn because they've been feeding corn for 40-50 years and they know what that bushel of corn is going to give them. They've done it they've repeated it over and over and over," said Peterson. "They know corn, they don't know sorghum and I think that's one of those things that makes them hesitant."
"We need to work on that," he said.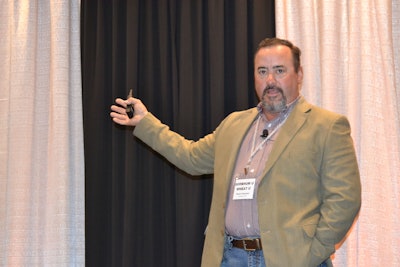 Brant PetersonRoy Graber
There are programs in place and in the works that will help show producers just how efficient sorghum is as a major feed ingredient, Peterson added.
One major plus for sorghum is that it requires much less water to grow that is the case with corn. That should be particularly concerning from a sustainability aspect, considering the land that is part of the depleting Ogalala Aquifer, is largely where sorghum is grown and cattle are fed. The aquifer includes most of Nebraska, the western portion of Kansas, the Oklahoma panhandle and portions of Texas, New Mexico, Colorado, Wyoming and South Dakota.
Peterson said sorghum also requires less nitrogen than corn does.
And those are two major reasons the sorghum industry needs to promote its benefits to feeders.
Sorghum in pet food
Peterson also talked about a move to present sorghum as an alternative to rice, which has historically been a base in pet food.
But rice isn't necessarily the best thing for pets, he said. When rice gets stressed, arsenic can be created, which Peterson said is a cause for concern.
"Pet parents take their food very seriously," said Peterson. "People will freak out if there's arsenic levels in the rice they feed their pets."
Sorghum is also a good substitute for rice in pet foods, and it doesn't necessarily matter whether it is red sorghum or white sorghum, or even which variety.
"The cool thing is it doesn't have to be a specific brand, hybrid or anything else. What it has to be is properly preserved and consistently the same type of grain in the bins where it was stored," Peterson said.
Other potential seen for sorghum
Winter talked not only about grain sorghum's promise as a feed and pet food ingredient, but also as ingredients in bird seed and foods for human consumption.
And when it comes to the sustainability that grain sorghum offers, Winter said, "it's becoming apparent there's people out there, with money," who are willing to purchase grain sorghum as an ingredient in their products.
He also said that grower incentive programs could be on the pipeline to help producers meet increases in demand.
"I'm hearing things. I have not seen it up front just yet, but this thing might just have legs. There might be some things getting ready to happen to where there's real incentives for people to be putting sorghum in the bin and be in touch with buyers that are after that particular crop," Winter said.
"Stay tuned on that. There might even be some state programs that are getting ready to be rolled out that would have a lot of incentive to be raising grain sorghum."