Joice & Hill managing director Nick Bailey reflects on the impacy of small improvements on food production
The global population is projected to increase by two billion people by 2050. This is a dramatic increase of 25% within 30 years. Feeding 9.6 billion people will require innovation and collaboration throughout the food chain. Joice and Hill is the UK distributor for the layer breeds of global breeding company Hendrix Genetics, a company at the forefront of R and D and innovation in multi species animal breeding.
Animal breeding is about continuous incremental improvements. Innovative measuring techniques, research, implementation of data science and the right selection of mating candidates are delivering an average 1% improvement with each pure line generation. It may seem a small margin, but a 1% improvement in performance of pure lines has a big impact on global food production. Here are some of the projects driving these improvements in performance, sustainability and welfare.
Advancing animal welfare through sensors and AI technology
Advancement in vision, sensors, and AI (artificial intelligence) technologies offer a crucial opportunity to develop new methods to automatically detect and analyse animal behaviour. Better understanding of social interactions between animals in social groups will result in reduced instances of harmful animal tendencies, such as feather pecking in laying hens.
To address these issues, Hendrix Genetics have joined the IMAGEN (AnIMAl Group SENsor) project, a multi-faceted, long term study combining animal breeding with advances in sensing and AI technologies to help in the transition towards sustainable livestock production.
By combining sensing and AI technology with animal breeding and genetics, this project aims to improve the health and welfare of livestock and reduce the ecological footprint of our food production.
Using neuroscience to improve the health and welfare of laying hens
Hendrix Genetics is one of 20 partners working together to study poultry stress in response to various environments, including the impact of housing systems and feed programs. The goal of the project, named ChickenStress, is to provide information on the best welfare conditions for laying hens, while maintaining optimum egg production. An international team of 14 PhD students, under the supervision of global experts, will study how genetics, their rearing environment, and production environment impact chronic stress.
This project will train future leaders in a range of scientific studies and help egg producers attain the best possible welfare standards for chickens. This project has received €3.9 million investment from the EU Marie Curie Fund.
Revolutionary Kipster layer farm
The Kipster Farm in the Netherlands is probably the most innovative and pioneering farm in the world. Hendrix Genetics is one of the partners in this project and is providing the first Dekalb White laying hens to be housed at the groundbreaking farm.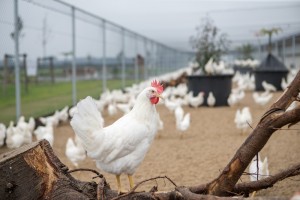 Multiple innovations on one farm
This farm concept is designed around the instincts and needs of the chicken
1,100 solar panels make the farm energy-positive
Fuel emissions are limited to an absolute minimum using energy systems not used in the agricultural sector before
The facility includes an area for visitors and a centre for education and information
The chickens eat newly developed feed made from surplus foodstuffs from the food industry which minimizes the environmental impact and do not compete with food for human consumption
This project is truly unique as it involved numerous parties including animal welfare and sustainability organizations in the design phase. The end result is a farm concept that is future proof, flexible and scalable.
The Eggxaminator
Accurate data collection is at the heart of breeding programmes. Data on an individual or family level enables the calculation of genomic breeding values that deliver enhanced performance traits for egg producers.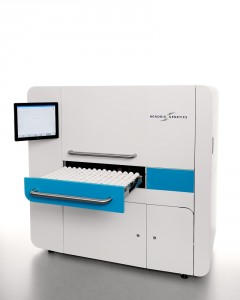 The Eggxaminator is a brand-new piece of technology that will enhance egg quality data collection even further than before. Created in collaboration with Hendrix Genetics Innovations and a technical partner from the Netherlands, the egg robot uses Machine Vision technology to examine and collect data on exterior egg phenotypes with a high amount of accuracy and consistency.
Machine Vision generates even more accurate data on our exterior egg phenotypes, removing the possibility for human error and subjectivity. Each evaluation is completed with a high amount of measurable consistency.
The world's most efficient protein producers
Laying hens are the world's most efficient protein producers. Each hen converts 2.0 kg of feed into 1.0 kg of edible protein. On average, a hen lays 350 eggs in a lifetime. Constant innovation and balanced breeding have led to breeds that can happily lay more than 500 first quality eggs per hen housed. This means that the same amount of laying hens, across the world, could lay 43% more eggs.