Why has 'Doc' just smashed the sales record, and why is she so valuable? Doc – or if you use her official name, S-S-I Doc Have Not 8784-ET – is a large and gorgeous Holstein cow.
As you can see in a video clip of her recent sale, Doc is mostly black in coat colour, has a tremendous udder and shines with health. But it's what's inside Doc – her genes – that led to her recently smashing the previous sales record for a Holstein cow in the US (and as far as anyone can gather, the world).
On a fine Saturday in early June 2022, she sold for US$1.925 million (€1.880 million). Doc is one of 6 Holstein females that have sold for over US$1 million over the last few decades, 4 of which are still relevant in the industry, explains Kevin Jorgensen, senior holstein sire analyst at US-based genetics firm Select Sires, which owns Doc's first son.
Doc is approaching 5 years old and is now owned by Mike and Julie Duckett of Duckett Holsteins in Wisconsin (where Doc lives), Dave and LouAnne King and Tom Kugler of AOT Genetics, Kings-Ransom Farm (the King family farm owned by business partners – and Dave's brothers – Jan and Jeff King) in New York state, and Tim and Sharyn Abbott of Borderview Genetics in Vermont.
Cow breeding
Kugler had bred Doc's dam, and another of her direct ancestors was bred at Kings-Ransom Farm. In 2021, Dave and LouAnne were presented with the Master Breeder award from the New York Holstein Association. So far, they've bred 15 cows with the Excellent rating that have the Midas-Touch prefix, including Midas-Touch Jedi Jangle-ET Ex 93, Midas-Touch AV Cling-ET Ex 92 and Midas-Touch Mccut Malibu-ET Ex 92. Doc herself scores Excellent (94) overall and Excellent (96) in the udder category.
Further back into Doc's genetics, her ancestry directly traces back 10 generations (about 30 years) to Snow-N Denises Dellia EX-95, a cow that, according to many, ranks among a handful of the greatest cows in the Holstein breed.
Jorgensen explains why Dellia EX-95 was one of the most influential cows of the breed: "She had female offspring that performed well in all environments – in the show arena, commercial world, in the high genetics arena," he says. "Her sons Dundee and Durham and others also had a transformational impact on the breed in their ability to sire cows that combined production, fitness and eye-appeal in one package. Very few cows can do this and now, after all these generations, Doc has emerged."
Doc's genetics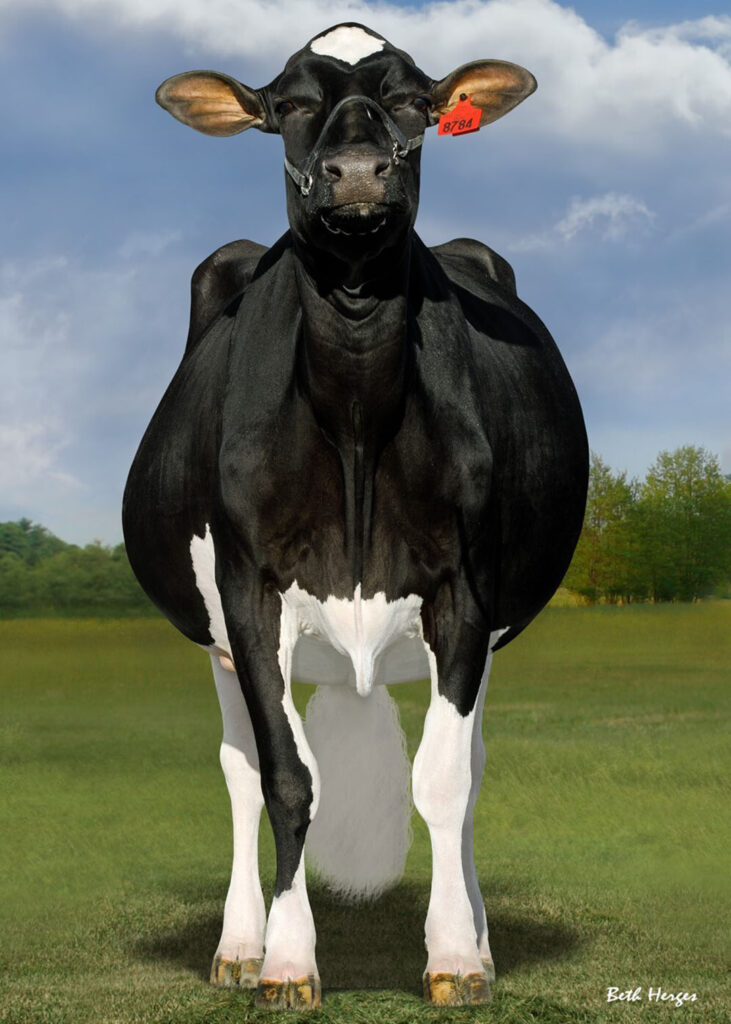 Genetically, Doc is a unicorn in a few ways. Her current Genomic Total Performance Index (GTPI), which is a measure of her total genetic package, is +2742. (GTPI scores are updated every 3 months with performance and progeny data.) That score is not so rare, but it is rare in a cow of Doc's age. For comparison, the top Holstein bull in the world has a GTPI of over 3200. But what's more, Doc has already produced 3 female offspring with GTPI of over 3035.
"This means Doc has what's called high genetic transmissibility," Jorgensen explains. "Her offspring have scores high above the score average of their parents, Doc and the sire in question. Based on what we're seeing with her sons and daughters, she is transmitting in the area of both production and phenotype. She and they can compete at the highest show levels because of their individual beauty. That just doesn't happen. It rarely happened with Dellia herself."
Doc has about 40 progeny already born or to be born soon, obviously with the vast majority being carried by recipients through embryo implantation.
Jorgensen reports that Doc's genetics have been combined with that of many different bulls, some not related and some closely related in selections that have the best potential chance at great results. He says 4 of Doc's sons just got DNA analysis results from Select Sires at the start of July, and 3 look promising in terms of milk production traits that they can potentially pass on to their progeny.
"We think this cow can check all the boxes…"
What overall does Jorgensen foresee with Doc's progeny being a little or very superior to Doc? "I sure hope that there are some that are greatly superior, due to the 30 years of amazing genetics behind her," he says. "I expect that she will do unique things, in terms of a genetic range that meets the needs of producers across the globe. But the people who will guide the breeding matter. The present owners have had a hand in the history of this cow and are very skilled at breeding. For me that's an exciting part of this."
An owner's perspective
How Dave King came to own Doc started with his purchase of Doc's full sister (8783 for short) in the 2019 National Convention Sale in Wisconsin. "When I first saw her in the sale line-up, I knew I needed this heifer (8783) who was due that year as a milking yearling," he says. "I bought her and then calved her in and we exhibited her at Louisville where she won the milking yearling class and I sold her that day. I had several people tell me that 8783 and her sister 8784 (Doc) at Duckett's might be 2 of the best full sisters in the business right now, and I think this is bearing out to be true today."
As mentioned, in terms of the genetic "family" that Doc belongs to, King and his partners had already been invested with several other cows. "We knew this cow family was able to breed in so many ways," he says. "We've seen them do it, so that gave us a lot of confidence in Doc 8784 to do the same."
King and the rest of Doc's new owners have already had inquiries from around the world about her embryos and offspring, as well as the embryos of her daughters. Genomic testing of all her offspring will continue. "We think this cow can check all the boxes," says King. "Our group of owners market cattle in almost every Holstein genre, and we think this cow can make an impact in sons and daughters for years to come in the Holstein breed."